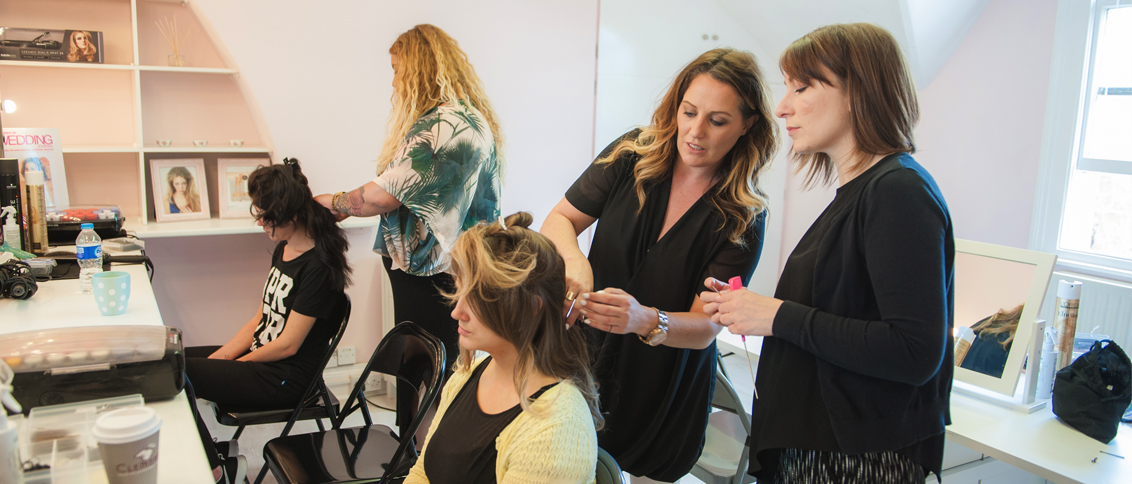 Olivia Muldoon Academy was established in 2011 after Olivia realised the lack of good hairstyling training in Northern Ireland, with stylists having to travel across the pond to further their training. After researching different courses offered throughout the UK, and gaining feedback from stylists who attended various styling courses, Olivia set about to raise the standards of teaching, and place more emphasis on hands on learning as opposed to the normal 'watch and learn' courses. Bridal and Occasion hairstyling has become one of the most sought after services in the salon, and clients expect their stylist to offer highly creative styles and to be knowledgable in their field.
The hair courses are designed to cover all aspects of styling and dressing hair, from beginners to experienced stylists wishing to push their creativeness.
Olivia also offers private, bespoke and salon staff training upon request.
We also offer various professional and recreational workshops in hair and makeup application. Check the website and Facebook page regularly for updated courses.
---
BRIDAL AND OCCASION HAIRSTYLING
DURATION: 5 Day Hairstyling course
COST: £675 per person. Training Head included.
DATE: TBC
The course has been designed for beginners with little or no experience in hairstyling, makeup artists or hairdressers who would like to build and further their career in professional hairstyling for the fashion, beauty, bridal, media and advertising industries.
The course covers all essential elements required for you to provide a high standard of professional hairstyling to future clients.
Additional indepth training can be taken at a later date to go into further detail of techniques and styles taught.
On completion of the course, students will feel more confident and be ready to:
• Work for private clients
• Provide bridal, formal and special occasion hairstyling
• Assist experienced, professional session stylists
• Assist in editorial hairstyling for magazines
• Work towards a career in fashion and celebrity hairstyling
• Work towards a career in Film and TV
On completion of the course, students who show enthusiasm, talent and dedication will be offered the opportunity to assist at shows/photo shoots, as well as join the bookings department where you will be offered paid work, giving an added kick-start to your career.
The course will cover the following subjects:
Introduction to Session Styling
• Health and Safety
• Hair Structure – Science and Theory
• Handling Wet Hair
• Selection and handling correct tools
• Overview of products and their use
• Face shapes and client consultation
Stylists Kit
• List of tools/products to carry
• Benefits and uses of tools/products
Setting Hair
• Correct use of Velcro and heated rollers
• Product selection
• Dressing and finishing techniques
Curls
• Prepping hair for curling
• Different types of curls
• Effects of humidity
• Techniques using various tools to achieve curl you require
• Dressing and finishing techniques
Braids, twists, rolls
• Types of plaits
• Modern styles incorporating plaits
• Creating Catwalk/red carpet looks
• Funky editorial looks
Hair Up – Basic
• Prepping Hair
• Creating texture
• Working with shorter hair
• Buns, Quiffs, French rolls etc
• Finishing techniques
Hair Up – Advanced
• Prepping Hair
• Classic Upstyles
• Beehives
• Adding supports (synthetic hair, doughnuts, sausages etc) to create different shapes
• Adding and working with hair extensions
Bridal Hairstyles – Basic
• Client Consultation
• How to help choose perfect hairstyle
• Complementing brides and bridesmaids
• Styles which complement dress etc
• Basic styles
• All classes are kept small to be able to give you the best attention.
• £200 Deposit required at time of booking. Students can pay balance in installments prior to the course commencement.
• Deposits are non-refundable.
• In the event of last minute cancellation, deposit cannot be carried over to next course.
• Students are expected to be punctual and attend every class. Classes will not be repeated.
• Students will receive reduction in price in future workshops taken.
A Professional Photoshoot is an optional extra to kickstart your portfolio under the expert guidance of Olivia and her team. Professional Photographer, model and makeup artist (if required) will be provided, and you will receive stunning images of two looks you will create. Let us know if you'd be interested in this option and we can send you costs.

---
WORKSHOPS
INTRODUCTION TO BLOWDRYING/FINISHING TECHNIQUES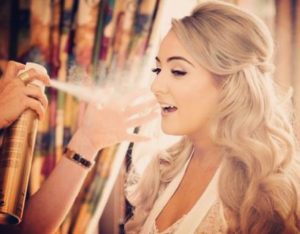 DATE: TBC—- 6-9PM ——– COST: £75
ADVANCED BLOWDRYING/FINISHING TECHNIQUES
DATE: TBC ——- 6-9pm —- COST: £75
ADVANCED MODERN VINTAGE
DATE: TBC 10-4PM ——- COST: £150
ADVANCED CREATIVE BRIDAL
DATE: TBC 10-4PM ——- COST £150
** DISCOUNT FOR PREVIOUS STUDENTS AND ALSO FOR MORE THAN TWO COURSES BOOKED TOGETHER
HAIR/MAKEUP SECRETS
COST: £150
Recreational course learning all the tricks of the trade! Have you always wondered how your favourite celebrity looks so fabulous all the time? Well, this short course will show you exactly how! It is ideal for all age groups from teens to mature women who wish to catch up with the latest makeup and hairstyling trends. We boast stylish, relaxed surroundings and the hair & makeup classes are aimed at everyone from make-up junkies to beauty virgins of all ages, making this a fabulous day out for the girls!
When it comes to looking our best, most of us would benefit from a little professional expertise – whether it's for a special occasion or simply to make the best of yourself day-to-day.
All our courses are kept small. This ensures you receive the highest level of attention and one-to-one training.
The course will cover the following subjects:
Day One & Two
Hair Product selection
Before creating a style, learn how to select the right product. In this section you will be guided through products and their uses.
Tools of the trade
You will find out what tools are needed to perfect your beautiful new look.
Sectioning/getting hair ready
Learn how to section your work, keeping it clean and tidy before beginning your desired style
Backcombing
Learn how to backcomb correctly to create volume for various hairstyles
Setting the hair
Learn how to perfect the use of heated rollers
Curling Tongs
All good hairstylists work with tongs whether it's backstage or on a shoot. Learn how to create gorgeous natural curls.
Braiding
Learn how to braid into simple and funky styles.
Working with hairpieces/extensions
Olivia will help you understand and teach you how to work with hair pieces and create styles around extensions
Basic Upstyles
Learn simple hair-up techniques and adapt them to your own personal style
Day Three and four
Introduction to makeup
In this section we discuss various brands and what does what for your skin.
Skincare
Learn the importance of basic daily skincare regime.
Skin Preparation
Learn why professionals use primers and how to choose and apply correctly.
Foundation
Choosing correct foundation for your skin type and colouring. How to apply flawlessly to stay put all day.
Bronzer/Blusher
Learning the difference and correct use and application of these products.
Contouring
Learn how to make the most of those cheekbones and change the shape of your face in a few easy sweeps.
All about Eyes
From daytime natural look to smoky or glittery party look, learn all about application and blending of shadows. Learn how to apply eyeliner to accentuate the eyes.
False Eyelashes
Learn how to choose eyelashes to suit occasion and apply with confidence and ease.
Eyebrows
Learn how to create perfectly shaped eyebrows to give you that youthful look.
Lips
Learn how to choose shades to complement your skin tone and apply perfectly.
Practical sessions at end of the evenings where students are encouraged to explore different looks and design a hair/makeup style for themselves to apply. Tutor will be available throughout to answer any questions and assist where required.
At the end of this session, all students should be confident in all aspects of applying their own makeup and style their hair to complement their face.
After your course, why not treat yourself to Professional Photo Shoot. This can be tailor made to suit your needs. Can be booked for yourself or with friends/family. Why not do your own hair and makeup, or choose to reward yourself for all your hard work, chill and have it professionally carried out by one of our professional hair/makeup artists.
Duration/Pricing
Group Options:
4 evenings 6.30 – 9pm – £150
One-to-One Makeup lesson – Approx 2 hours £125
One-to-One Hairstyling lesson – Approx 2 hours £125
Above lessons can be combined.
• All classes are limited to 8 people to enable the tutor to give more time to each student.
• All products and tools provided during the course.
• 50% deposit payable at time of booking. Balance must be paid 14 days prior to course commencing.
• Deposits are non-refundable. However, a deposit can be transferred
to the next available course provided a minimum of 3 weeks notice to course start date is given.
• Tea and Coffee provided.
• One to one lessons and private parties catered for.
All major credit cards, debit cards accepted.