So….my brows…anyone who knows me is well aware of my sorry excuse for brows. People always assume I got tweezer happy as a teenager because that's what happened back in the 90's.  Me, I just wasn't born with them. On my head, was a mass of out of control dark curls and on my face, just nothing. The two just didn't match up!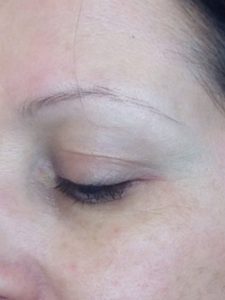 For years, I've visited counter after counter in my quest to find the miracle brow pencil, wax, powder…anything to give me a natural looking set of brows. I tried tinting, castor oil and Hd brows but this made my brows look even worse as I had to fill in all the gaps.
Over the past few years I noticed girls were getting semi permanent brows and I did a bit of research into this, but decided it was too 'blocky' for me as I like to look natural, even on holidays when I don't wear makeup.
About a year ago I happened to stumble across a feature about the new amazing treatment for brows called 'Microblading'. The journalist raved  about it, and how it would transform your life in an hour! Well this looked right up my street, and started doing my own research into it. As it is a relatively new procedure in UK, I was a bit scared in case I ended up with wonky brows which I couldn't wash off at night!
After hours of going through Facebook pages, looking at lots of before and after photos (I'm a very visual person) and can tell if they're good or to stay clear!
I chose Rasa, who is based at Bliss Beauty in Belfast because every photo was exactly how I'd imagine my perfect brow to be. I always going out a few of my clients had used her and their brows looked fab, so I immediately booked my appointment.
When I met Rasa, she was lovely and immediately put me at ease, explaining the procedure and discussing my ideal brow shape. As I lay on the bed, she put some numbing cream on and around my brows (or non brows) and we chose the colour of my new brows. Rasa then measured  and drew a new outline brow and let me have a look to make sure I was happy with the shape before starting the blading. As I have had a tattoo before, I knew it would be painful, but I put on my brave face and gave her the go ahead as I knew it would all be worth it!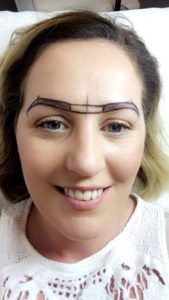 Throughout the treatment, Rasa stopped and let me have a look and also to give me a break from the pain lol. Because I bled a little more than expected on my right brow, it made it a little more difficult for Rasa to see what she was doing, so we decided it was best to finish the shape at the top up appointment. To be honest, I already loved the shape, so I don't think I'll be adjusting it very much.
When the soothing cream was applied, Rasa went though the aftercare, and advised on products to use for the ink to keep it's colour and not fade too much before the top up appointment, and to help it heal quickly.
The redness went down the day after, and there was practically no pain or discomfort so I was delighted I didn't have to hide out wearing shades in public!
As a makeup artist, you're expected to look a certain way and my brows were always a thing I felt I had to make excuses for. Now after the treatment, I can 100% say I feel like I've been totally transformed. I put my makeup on in the morning, and I feel like air punching knowing I've finally won the brow battle! It's just a pity it took 40 years to get there!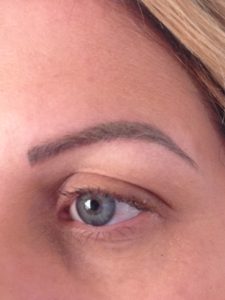 The above photo was taken two days after my first treatment. I'll receive my first top up in a few weeks as the colour will fade a little, and I can choose whether I'd like them thicker, darker etc, but I love them just the way they are!
If like me, you don't like your brows, maybe never had them, over plucked them or just with age they've thinned out, I'd highly recommend the Micro blading treatment. It will literally change your life and boost your confidence. Don't hesitate, get booked in now!!
Olivia xx