A Day In The Life of Olivia Muldoon

By Lisa Gorman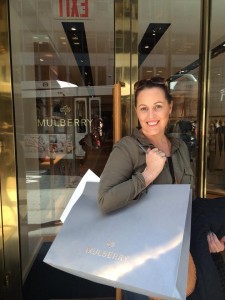 About a month ago I was offered an unbelievable opportunity, I was asked to work with Olivia Muldoon as her P.A, like any woman who loves make up and fashion, I knew straight away who Olivia was, so off course I jumped at the chance to work alongside Olivia (hopefully I'll pick up a few make up tips along the way!).  As part of my job I really need to get to know my client and find out what makes them tick, so I thought a great way to do this would be to spend some time with Olivia and bombard her with questions. Thankfully Olivia is so lovely she agreed straight away.  So, this is what I found out;
Like myself if you follow fashion and glossy magazines you will know who Olivia is, she works with some fabulous people who are always in glossy shoots, like Chloe Jasmine, Orlaith McAllister, Tiffany Brien, the list goes on…
This is what I found out, Olivia is a very busy lady and generally no two days are the same. Olivia does a lot of bridal party hair and make up, photo shoots for some fabulous local designers and also gets to work with some gorgeous local celebs like Tommy Bowe and Tiffany Brien.
Did you also know that Olivia worked with Sinitta recently?? No, well that is for another day…
This blog is all about Olivia and her crazy life.
I thought I would start with asking Olivia a few questions and get her to tell me more about her and what her day entails:
What time do you normally get up out of bed?
 It generally depends on what I am doing that day, if I have a wedding or morning photo shoot my day can start as early as 5am, I would have to be on location either setting up to make a bride and her bridesmaids look beautiful or meeting and greeting a fabulous model and setting about making them look even more gorgeous.  If I am working from the studio then my day can start a bit later, usually 8am. I will start by checking my emails and Facebook messages, make phone calls and also get in touch with my girls to make sure they know what they're doing that day. 
Breakfast will either be a bowl of porridge – eaten while I am putting my own make up on or if I am really lucky and have the time to relax a bit it will be scrambled eggs, bacon and toast from Sinnamon in Stranmillis, their food is so good plus it is just across the street from my studio so really handy as well.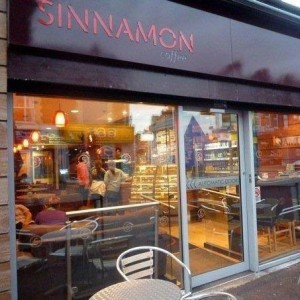 Ok so mornings can be a bit hectic what about the rest of your day? Do you have a typical day?
 No two days are the same for me, on any given day I could be travelling anywhere in Ireland working on a shoot or make up for a wedding, that could take a good few hours after which I return to the studio. There could be more photoshoots in my studio with my in-house photographer, we would plan the afternoon with timings, models and focus on the end result.  I would sometimes bring one of my fabulous assistants with me to work at weddings or at a shoot depending on what the client requirements are, so we would have to organise travel arrangements, which would of course depend on where we each have to be after the event.
My days can very much depend on the season, in the winter I would be mainly based in the studio working on clients attending formals, award ceremonies and Christmas parties.  We would also be busy bees working on Christmas campaign shoots and planning for Spring/ Summer campaigns for the following year.
Of course in the Summer it's all about fabulous weddings, whether it be attending a brides house and working my magic on the whole bridal party, then the afternoons could be all about bridal trials.  Summer also then brings garden parties and swanky events so there are always ladies wanting their hair and make up done for those as well.
When I eventually get done with applying make up it's time to clean brushes and prepare my kit for the following day.  I will also reply to any messages and emails that have come through during the day.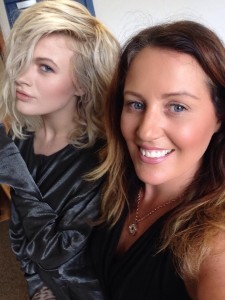 With all this madness going on do you get time to eat during the day?
Well lunch is usually taken on the move, I do try to grab something quick somewhere if I can but if not you can usually find a banana in my bag.
So Olivia you are clearly a very busy lady, do you ever get time to let your hair down and relax?
On the rare occasion that I have time to go out, I tend to go for dinner to Zen, which I love, great food and it also has a brilliant atmosphere.
I recently tried CoCo for the first time, the food was really ace. 
I generally tend to stick to more casual dining and love going to Yum in Stranmillis, it is surprisingly tasty which a lot of people don't realise!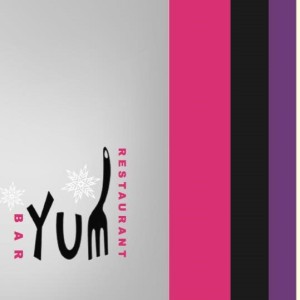 It must be like a busman's holiday when it comes time for you to get ready to go out?
Yeah it can be, but everyone wants to look beautiful right? I usually do finish up quite late in the studio on the weekends so I would tend to do my make up there for going out, of course all my best make up is reserved for my clients. My personal make up bag is not very impressive, it just holds the basics that I need on a day to day basis.  As a treat recently for my birthday my gorgeous assistant Shaia offered to do my make up for a night out, it was so nice to be on the other end of the brush for a change… What a treat that was, unfortunately it doesn't happen too often.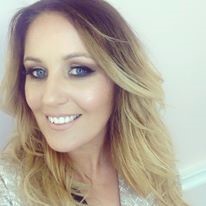 For a "Night on the town" where would you normally go?
It depends on what day of the week it is, not all of us have typical Monday to Friday jobs so we don't tend to just stick to going out at weekends.  During the week I love the relaxed atmosphere of Muriels or Ritas where you can sit and relax and have a good aul chat. When we fancy a bit of a boogie we can generally be found in the Harp Bar busting a few moves on the dancefloor… It's great fun.  If it is a weekend night I would hang out in The National & Sixty6, I just love the feel of the place and the beautiful décor. The DJ can be pretty awesome too.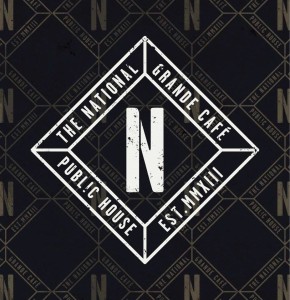 After chatting to Olivia over a coffee in Sinnamon (she is right this place is lovely) it's not hard to tell that Olivia loves her job and loves making people feel and look beautiful, she is absolutely fantastic at her job and loved by her many fans and clients.  It really isn't hard to see why; Olivia is so warm, friendly and unassuming that it would be really hard not to love her…
I also found out that not only does Olivia style your hair and make you look beautiful she also teaches others to do the very same thing.  This is a natural gift that Olivia has so she likes to share it with others and teach them either in a 1-1 environment or as a class on training courses.
Well with Christmas just around the corner I know what I would like from Santa….
An appointment with Olivia to be made feel beautiful and also maybe a 1-1 so I know how to apply my own make up properly… "Please Santa, I've been good honest"
For bookings and enquiries please contact Olivia and her team through her website: www.oliviamuldoon.com