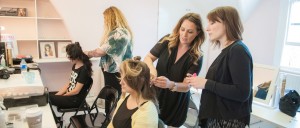 The start date has now finally been set for the 5 week hair course being held on a Monday.
It will start on Monday 9th May 2016, 10am – 4pm and will run for 5 consecutive weeks.
We have a few spaces left on this course, if you would like to book a place please email: info@oliviamuldoon.com for payment information.
The course has been designed for beginners with little or no experience in hairstyling, makeup artists or hairdressers who would like to build and further their career in professional hairstyling for the fashion, beauty, bridal, media and advertising industries.
The course covers all essential elements required for you to provide a high standard of professional hairstyling to future clients.
Additional in-depth training can be taken at a later date to go into further detail of techniques and styles taught.
On completion of the course, students will feel more confident and be ready to:
Work for private clients
Provide bridal, formal and special occasion hairstyling
 Assist experienced, professional session stylists
Assist in editorial hairstyling for magazines
Work towards a career in fashion and celebrity hairstyling
Work towards a career in Film and TV
On completion of the course, students who show enthusiasm, talent and dedication will be offered the opportunity to assist at shows/photo shoots, as well as join the bookings department where you will be offered paid work, giving an added kick-start to your career.
The course will cover the following subjects:
Introduction to Session Styling
Health and Safety
Hair Structure – Science and Theory
Handling Wet Hair
Selection and handling correct tools
Overview of products and their use
Face shapes and client consultation
Stylists Kit
List of tools/products to carry
Benefits and uses of tools/products
Setting Hair
Correct use of Velcro and heated rollers
Product selection
Dressing and finishing techniques
Curls
Prepping hair for curling
Different types of curls
Effects of humidity
Techniques using various tools to achieve curl you require
Dressing and finishing techniques
Braids, twists, rolls
Types of plaits
Modern styles incorporating plaits
Creating Catwalk/red carpet looks
Funky editorial looks
Hair Up – Basic
Prepping Hair
Creating texture
Working with shorter hair
Buns, Quiffs, French rolls etc
Finishing techniques
Hair Up – Advanced
Prepping Hair
Classic Upstyles
Beehives
Adding supports (synthetic hair, doughnuts, sausages etc) to create different shapes
Adding and working with hair extensions
Bridal Hairstyles – Basic
Client Consultation
How to help choose perfect hairstyle
Complementing brides and bridesmaids
Styles which complement dress etc
Basic styles
Bridal Hairstyles – Advanced
Classic bridal styles
Vintage hairstyles
Contemporary bride
Dressing and finishing techniques
• All classes are kept small to be able to give you the best attention.
• £100 Deposit required at time of booking. Students can pay balance in installments prior to the course commencement.
• Deposits are non-refundable.
• In the event of last minute cancellation, deposit cannot be carried over to next course.
A Professional Photoshoot is an optional extra to kickstart your portfolio under the expert guidance of Olivia and her team. Professional Photographer, model and makeup artist (if required) will be provided, and you will receive stunning images of two looks you will create.
The cost is £550 which includes a training head. A £100 deposit is required to hold your place