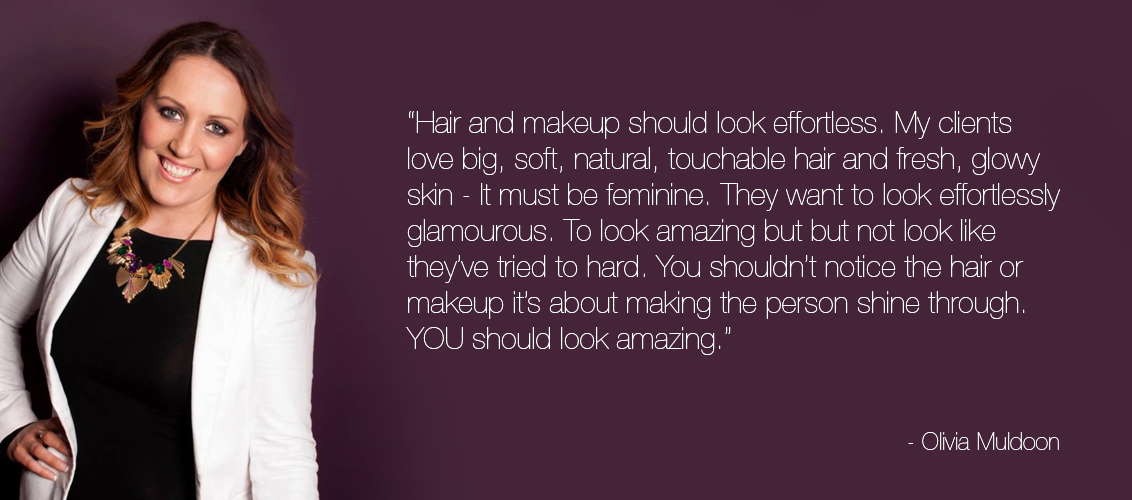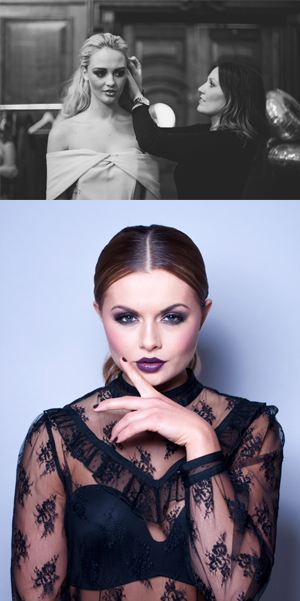 With over 20 years experience Olivia trained in hairdressing at two of Belfast's busiest hair salons before moving to Dubai to explore her love of travel and getting the best customer service training in the world at Emirates, before being selected to work at the luxury private jet service Royal Jet attending the President of the UAE and his A list guests. The Dungannon gal returned from her adventures with world class training and the highest level of VIP customer service under her belt.
With her obvious creative flair Olivia extended her skills by training at prestigious makeup schools Paddy McGurgan Make Up Academy, Illamasqua and The Makeup Dept. More recently, Olivia travelled to the US on two occasions, where she trained for a week at a time with world class makeup artists such as Pati Dubroff, Val Garland, Sam Fine, Gregory Arlt and Kristofer Buckle to name but a few. Olivia believes in the importance to continue with education, which she believes is essential to keep at the top of her game.
Olivia has worked on various campaigns in UK and Ireland, tv commercials and talk shows, and backstage at major fashion events including Belfast Fashion Week, Miss N.Ireland, Miss Ireland and is currently working exclusively with popular NI blogger and former Miss Northern Ireland Tiffany Brien.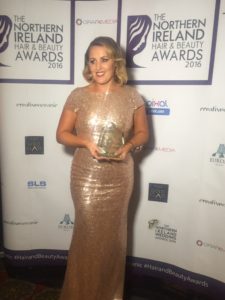 Olivia is also celebrating being awarded 'Makeup artist of the year 2016' at the Northern Ireland Hair and Beauty awards held in Europa hotel, Belfast, was finalist in 2017 and has just been announced as finalist of 2018 Northern Ireland Wedding awards in the Bridal Hair and Makeup category. She has also recently been names in the Top 50 Bridal makeup artists in UK by GoHen.com
Olivia's skills for hair perfection and flawless skin are ideal in front of camera, even if it's just for a selfie! The talented hair and makeup artist has worked on high profile ad campaigns including Castlecourt, Rushmere Shopping Centre, The Merchant Hotel and Aer Lingus, as well as various TV commercials including Stenaline and Just4women.ie, and in TV & Film on the set of Cupcake, Game of Thrones and 'Halo: Nightfall' by Ridley Scott.
Whether working at the bride's home, in the studio with clients or as a teacher and mentor to her Hair Academy students Olivia's approachable manner, calming influence and infectious laugh make her a joy to be around – even in the most stressful situations!
The demand for Olivia's skill for creating that 'fresh, youthful, glowy look' that every woman craves has led her to create the Olivia Muldoon Hair & Makeup Studio – a complete beauty experience! From hair styling and makeups to spray tans – her mission is to make every woman feel as amazing on the inside as they look on the outside.
I completed the basic and advanced session styling courses. The techniques taught and advice given were invaluable to me. From products and tools to styling tips the courses were both informative and applicable. Training with Olivia undoubtedly gave me the best start in my session styling career and the confidence in my abilities.  Fashion or bridal the training given by Olivia was excellent! I would without hesitation recommend Olivia's academy for anyone wishing to kick start their career as I did.  I LOVE what I do and am so grateful for the opportunities given by Olivia!
Gemma Managh

I got my hair and make up done by Olivia for a wedding. Olivia was quick and efficient but not at all rushed.  Afterwards I felt great. Confident, and did not have to reapply my make up all day! I have booked her for my wedding in July as has a colleague.  Olivia was very professional and confident which made the experience comfortable and enjoyable.
Nikki Flynn

I booked Olivia for bridal makeup for myself, my 4 bridesmaids & my mum. I had never had my makeup done by anyone before so I didn't really know what to expect but from my first appointment with Olivia for my bridal trial she made me feel at ease & chatted away like we'd known each other a long time.

She listened to what type of bridal look I wanted to achieve on my wedding day and suggested a few products to try out and reassured me I could have the overall look I wanted no problem.  She talked me through the different steps of doing my makeup & and in what felt like no time at all she was finished. I was happy to see what she had achieved, I still looked like myself which for me was good as I was anxious that I'd look 'too made up'. Olivia is very professional & I felt confident after my trial that my wedding day makeup would be perfect, and it was.

Olivia arrived on the morning of our wedding at my home & put us all at ease chatting away & working her magic on us all. As you can imagine everything on the morning of the wedding must run smoothly & on time Olivia had also managed this perfectly. Our guests & family complemented us on our makeup all day & no touch ups were required it stayed in place perfectly.

I have & will continue to recommend Olivia's services to other brides to be & to anyone looking there makeup done for that special occasion.
Tina Braiden

"Olivia thank you so much for Saturday! You were an absolute gem! The girls all looked absolutely stunning! Hair and makeup stayed perfect all day and night! We appreciate you being a part of our day and I couldn't have asked for a more talented and lovely person to get us all beautified on my wedding morning! What a fantastic make up artist!"
Aimee Edwards

CEO, Topper Inc
If everyone demanded peace instead of another television set, then there'd be peace.
John Lennon

CEO, Topper Inc